I got the idea for this recipe because of my insane craving for muffins. Ever since I had the lemon ginger scone, I have been on a muffin rampage. I think it means I am craving pumpkin and autumn. You know? Pumpkin muffins, pancakes… mmm.
I browsed for muffin recipes using granola because I have a box of Cascadian Farms Ancient Grains and thought it would be a nice addition to the muffin batter. I ended up finding this one and tweaked it to make it my own. Now this muffin batter can really be called anything; microwaveable muffin or just a yummy bowl o' oats!
I must say; this seriously kept me satisfied. Like I said, working early and by myself for a few hours, doesn't really give me the option to snack like I usually do. But having 1 or 2 of these for breakfast (or just making 4 servings as oppose to 6), really hits the spot.
I hope you enjoy these hearty and delicious muffins as much as I do. Next time I may try adding a tablespoon or two of protein powder. Ideas.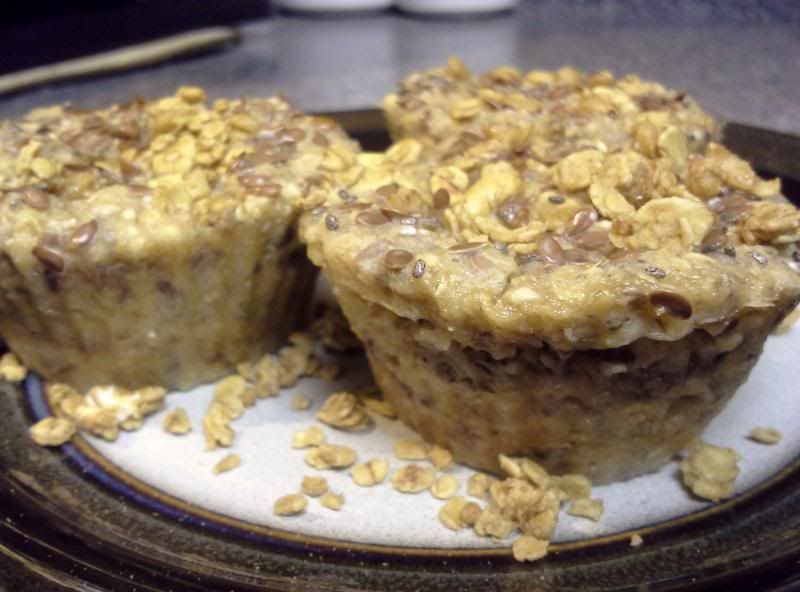 Granola Muffin Ingredients (Makes 4-6 Servings):
3/4 Cup of GF Quick Oats
1/2 Cup of Granola (Use a GF brand if needed*)
2 tsps Flax Seeds
1 Tbsp Chia Seeds
2 tsps Light Brown Sugar
2 tsps of Pure Maple Syrup (or Agave)
3/4 Cup of Milk (I used soy)
1-6oz. Container of Plain Non-Dairy Yogurt (I used soy vanilla for extra vanilla)
1 Tbsp Earth Balance (or your choice if not vegan)
1 tsp of Vanilla Extract
1 tsp Baking Powder
+ Extra granola, flax and sugar for garnish
Place chia seeds into milk for about 5-10 minutes to make gelatinous. Then mix everything well into a bowl, then transfer to a blender. Blend well; (it's okay if it doesn't blend completely). If for any reason it's too thick, add more milk. If too thin, add more oats.
Place muffin mixture into 4-6 small ramekins or silicone cupcake liners (like I did) or divide between 4 bowls for a yummy oatmeal treat. Top with a smidge extra of granola, flax and brown sugar.
If your microwave is as big as mine, I was able to fit all six silicone cupcake liners into the microwave and I heated it for about 5-6 minutes until center was firm. If you are just going to put it individually, put it for about 2 minutes each (3-4 for bowl way). 
Remove from microwave and let cool. You can drizzle with more maple if you'd like or just eat as is! If you make 6 muffins, the average nutrition info comes out to; 140 calories, 5g fat, 20 carbs, 5g protein and 3g fiber. Remember this is based on what I used for each ingredient, yours will vary!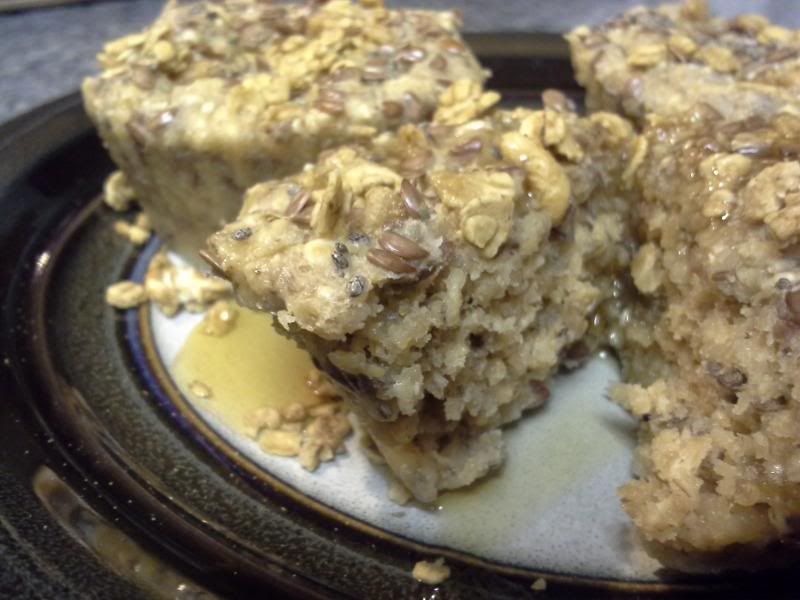 Question: Are you ready for the fall? I mean, I know I am. What's not to like? Beautiful chilly-ish weather; not to mention copious amounts of delicious crisp apples, pumpkin treats and apple cider. By the way, what do you think of the new layout!? It means happiness and bliss to me :]