Maine: Lobster
Of course there's a natural connection, and we highly recommend taking in your share of lobster when you visit these parts. This time of year, the lobster is sweet and the shells are not quite as hard, making it a bit easier for lobster rookies to find their way to the good stuff. And as lobsters are prevalent, prices are down.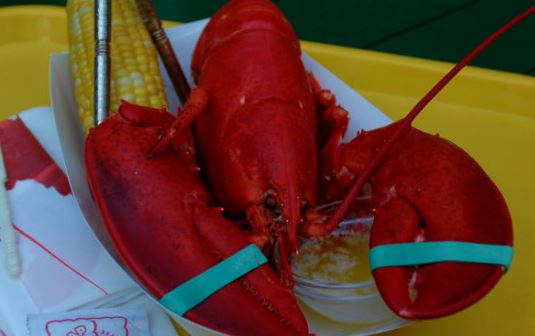 Bar Harbor restaurants offer lobster in as many ways as you can think of: tossed with pasta, on your pizza, in a frittata or a lobster pie. It can be baked stuffed, grilled, swimming in butter (lazy style) or in a toasted bun with a touch of mayo or melted butter. Or, for the purist, it can be steamed 'til tender and sweet and served with a bib and perhaps an ear of corn, cup of chowder, steamers and a bib: shore dinner style. You'll find lobster specials for twin or even triple lobsters at many restaurants in town. We especially recommend Thurston's Lobster Pound near the light house in Bass Harbor and Poor Boy's Gourmet — pick one of their dozen or more preparations — but you can't go wrong at any of the pounds who'll cook and crack your crustacean for you.
While some of us consider lobster a part of our daily diet, if you prefer to change it up a bit, Bar Harbor's 100 or so restaurants will not disappoint. With a menu of rustic bistro cuisine that is constantly changing and presentation that appeals to the artist in us, Mache Bistro is one of our favorite restaurants in town. Havana has a Latin flair and features an extensive wine selection; you can even dine in their wine room.
If you're seeking a bit of variety, consider Paddy's Irish Pub. While the chef hails from Key West rather than Ireland, the wait staff does boast Irish brogues. They claim the best interior in town, but we're partial to eating on the deck overlooking the bay. Along with local twists on world cuisines, Fathom has their own bit of creative whimsy, with live fish bowls on each table. If you're a clumsy type, you may want to skip this stop as the fish happen to be attack fish!  Café This Way is another terrific spot, offering innovative and artfully prepared food served by a gracious and friendly wait staff. It's housed in a converted garage.
For a small town, Bar Harbor offers a good variety of specialty eateries as well, including numerous ice cream and sweets shops, several wineries offering daily tastings, and locally handcrafted ales (with tours and samplings daily) at Atlantic Brewing Company. There's Eden, boasting worldwide flavors for vegans and Jordan Pond House for spectacular popovers and stellar views